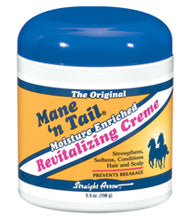 Mane n Tail Revitalizing Creme 156g
Regular price $0.00 $14.95 Sale
A leave-in ultra light moisture-enriched treatment that softens and restores hairs' natural elasticity and strength while nourishing the scalp.
Revitalizing Crème benefits:
A special blend of Aloe Vera, vitamins, natural herbs and essential oils that help to prevent breakage, split ends, frizz and dryness.
A non-greasy formula designed to promote smoother, softer shinier and more manageable hair.
Safe and gentle for all hair types, specifically designed for relaxed and/or chemically treated, natural or synthetic hair.
Ingredients:
Water/Aqua/Eau, Mineral Oil, Sorbitan Stearate, Microcrystalline Wax, Propylene Glycol, Polysorbate 80, Lanolin, Isopropyl Palmitate, Petrolatum, Dimethicone Copolyol, Carbomer, Cetyl Alcohol, Triethanolamine, Diazolidinyl Urea, Fragrance (Parfum), Methylparaben, Disodium EDTA, Aloe Barbadensis, Propylparaben, with Extracts of*: Equisetum Arvense (Horsetail) Leaf*, Larrea Divaricata (Chaparral)*, Tussilago Farfara (Coltsfoot) Flower*, Aesculus Hippocastanum (Horse Chestnut) Seed*, Spiraea Ulmaria (Meadowsweet) Flower*, Trifolium Pratense (Clover) Flower*