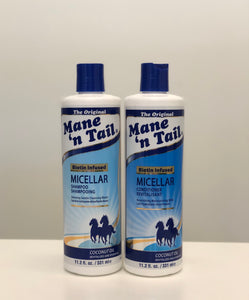 Mane n Tail Micellar Shampoo and Conditioner Combo 331ml
Regular price $31.90 Sale
Less stress on your tresses, cuts down styling time and gets your hair amazingly clean while protecting and repairing all at the same time. Works wonders on all hair types, running the gamut from kinky, curly to straight and everything in between. 
• Biotin-infused (B-7), to help create healthier hair with essential vitamins proteins that revitalize and fortify strands, while encouraging hair growth by keeping hair stronger and longer

• Vegan formula-created with vegan-friendly ingredients

• Refreshing, Indulgent scent

• Micellar molecules attract dirt, sebum in your hair and scalp, so it can easily be washed away gently without being too harsh on the hair while removing excessive styling product buildup to detoxify even more!
• Breakage reduction by imparting detangling properties during both the shampoo and conditioning steps, a process that will also reduce split ends. The results are silky, shiny, strong hair, encouraging soft supple curls or straight smooth tresses.